Top 10 cafes with outside seating in Bath city
The top 10 cafes with outside seating in Bath city center!
With the pandemic still ongoing more and more people look for outside seating areas when choosing for a café or a restaurant. In this post we would like to talk about the top 10 cafes with outside seating area in Bath city center.
With the latest developments in the country and the world, more people wish to go for staycation and travel within the UK. Staycations in Bath have become very popular for families in Somerset and far away. We have seen a sharp peak in demand for holiday homes in Bath and it is amazing to welcome guests again to our holiday homes. It is so liberating to see people fill the streets of Bath city center and we love to see and welcome all the tourists to the city.
It is more important than ever to provide our guests with peace of mind and support to keep safe both physically and mentally. More and more people wish to go out for cafes and restaurants which have outside sitting areas. It is natural for people to try and stay safe whilst enjoying their staycation.In this article we will be talking about the top breakfast places in Bath with outside seating area.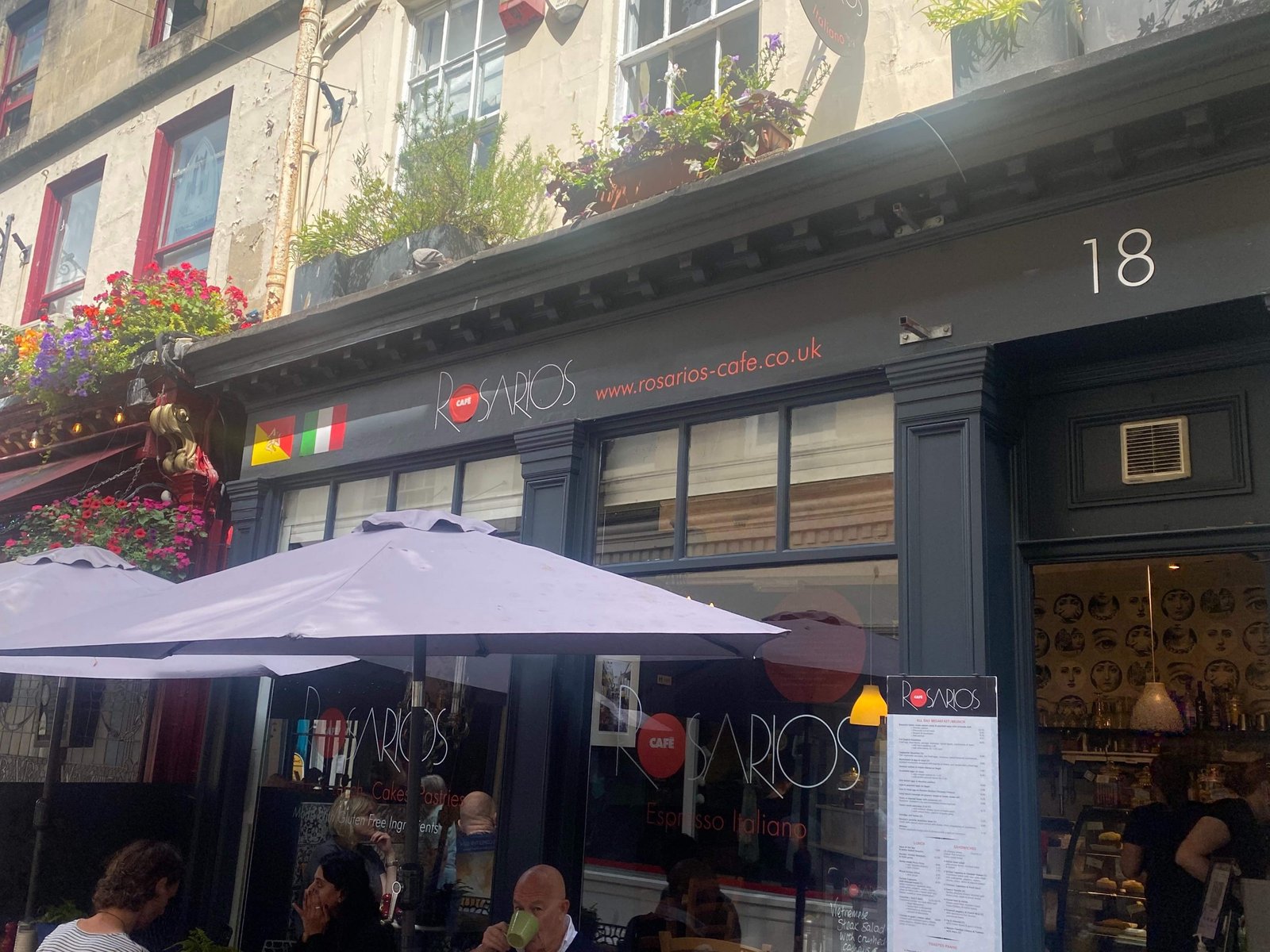 Rosarios offers a great selection of food for your breakfast. It offers its breakfast all day long! That is very rare to find in Bath. It is situated in a busy arty street of Bath and located opposite the gallery so you can sit and enjoy the views of impressive paintings and witness busy morning Bath action. What is great about this place you can choose from vegetarian option to pescatarian option to normal chicken based option. It is great that it offers more variety than many other traditional breakfast only places. You can order traditional breakfast here too but if the other party wishes to enjoy their vegetarian breakfast they can do so. Definitely for a family or a couple with varied tastes, definitely recommend this beautiful place.
This place is very peaceful and elegant and its ambience enhances your experience with this place. For your breakfast you can choose to have croissant or toast with butter and jam or boiled eggs with toast or grilled eggs with toasts with option to add salmon, bacon or falafel to your breakfast. Their breakfast stop serving at 12:00pm however even if you miss their breakfast their brunch menu will not disappoint you.
Boston tea party with its huge outside seating area and amazing selection of food cannot be missed from top places to eat outside in Bath city center. It has everything for everyone from teenage kids to adults to vegetarians to vegans. Moreover it is situated in a busy square of Bath that it gives a lot of action to watch. I love to sit here enjoy my cup of coffee and view the bustling life of Bath city.
Definitely recommend this lovely spot!
This café offers a great range of outside seating area and all day breakfast. You can have your breakfast in traditional way or you can have it The Kingsmead way. Also it offers vegetarian option and some interesting non-traditional foods such as "Shakshuka" and "Cowboy Beans". It is located in a busy Kingsmead square and you and your thoughts would not be interrupted however you will enjoy to see the busy Bath square action.
This is a little vegetarian place. Now…. Wait! …. Wait!… don't close down your mind for this place. It might be vegetarian but it has a great food to offer. Look at the names of some of their breakfast items "Mixed mushrooms and spinach and cashew crumbs on sourdough bread", "shakshuka with tofu 'eggs' with a slice of sourdough". My partner is absolute non vegetarian however even he complimented the tofu eggs taste of this little café. If you are still not convinced, carry on with a list. At least I give it a good try!
This is voted as Bath's best breakfast place. I think it is not exaggerating it. It does offer a great food selection and great tasting menu. Maybe portions are on a smaller size which is a minus for me as I love to eat my food and feel I had a breakfast of adult size. I know you might think I must be big and meaty )) no I am not, I just like good portion food. Well, if you are going to this place you will not regret your choice and that is all there to say!
Same same but different
This place serves breakfast all day long. Great staff, lovely cheering you as you enter the door. Breakfast is good portion and tastes great as well. It has great sitting area and it also offers a quiet talking spots. I love this place for a chilled conversation place and a good breakfast place if I want one at 4pm in the afternoon.
This is one of the best places to eat in Bath. It is located outside of city center but it is definitely worth the drive! Their portions are huge and their food is simply outstanding and delicious! I tried their Sunday roast, their beef burger, their breakfast! I must say that food tastes so different here, you feel that everything is organic and no mimicking of food but it is an actual food and how long you were deprived of taste of a real healthy organic food! I definitely recommend you trying this place!
Read More